The Mastered BDSM box set is an incredible collection of ten stories by eleven bestselling authors. Today read an excerpt of Juicy by Multi-Award-Winner, T.J. Michaels.
Dr. Julia Reed enters a pact to share her sinful fantasies, but Logan won't play by the rules. #Mastered@Kate4Queenhttps://bit.ly/OpalsBlog
All bets are off when there are no limits…
Dr. Julia Reed is a skilled doctor at a California ER, where life & death are always on the line. After an enticing meeting with British Businessman, Alex Logan, he proposes a sexual bargain. She gives him the details of her deepest, darkest fantasies, and he gets the power to act them out. Reed comes to suspect that Alex is not playing fair in this game of lust.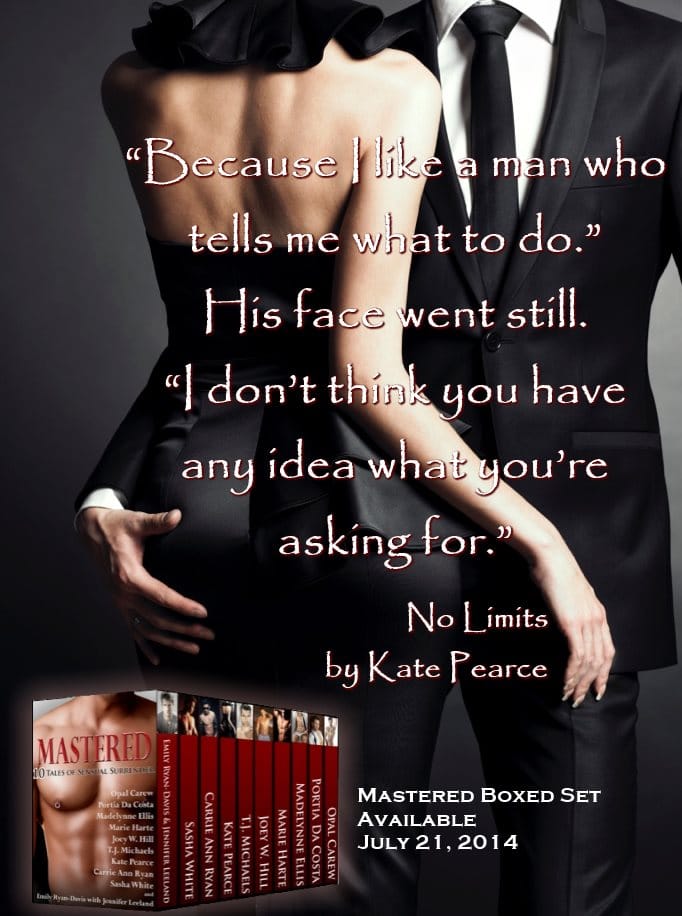 ♥
Excerpt from No Limits by USA Today bestseller Kate Pearce
"I know what I like."
"Let me guess. You want a man to tie you up, spank your arse and make you call him Sir."
"There's nothing wrong with any of those things in a consensual relationship."
"I agree, but I don't play those kind of games."
"I'm not sure I believe you. You said—"
He held up his hand. "I said I liked giving my lovers what they wanted."
"So if I asked you to tie me up and flog me, you'd be okay with that?"
His eyes were cold. "I don't play games."
I studied his calm face. "Then what do you do?"
"If you really want to know I suggest you have dinner with me."
"You're relentless."