New York Times and USA Today Best-Selling Author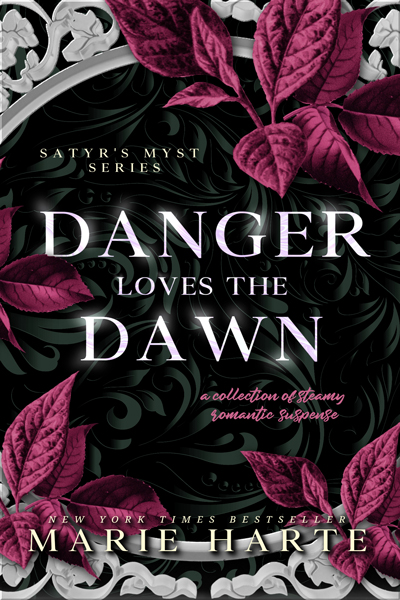 Three steamy romantic suspense stories with a fourth bonus short story all centered around H&R Securities and the pleasure resort, Satyr's Myst.
Includes Tied and True, Reaper's Reward, Satyr's Myst, and Willa's Wish.
In Tied and True, in her pursuit for a little revenge on the new guy talking badly about her at work, Lindsay finds more than she bargains for when tying up Jared Hunt.
Reaper's Reward finds Ethan Reaper on an undercover assignment at the pleasure resort Satyr's Myst, a sexual fantasy paradise where anything goes. But in order to save his client, he has to take a resort girl to keep his cover, and they face danger when confronting the truth about everyone on the island…
In Satyr's Myst, owner Rick Hastings finds love for everyone but himself. Until danger tosses him not one, but two perfect partners. Now if he can just convince Lila and Trevor they're exactly where they need to be…without dying.
In bonus story Willa's Wish, Tyrone is taking over for his boss, Rick, at the Satyr's Myst resort while Rick goes on vacation. Willa thinks it's the perfect opportunity to show Tyrone exactly what he's been missing by giving him all the pleasure he can stand, and then some.
Friday Night
Lindsay used the next two days to organize the details of her Friday night mission. As the daughter and sister of three Marines, she knew how to prepare for battle. She'd sketched out a plan of attack following work on Wednesday, and with Janice's help, had used Thursday to gather more information from Sara.
After a full day's work and a hasty dinner, tonight was go-time.
She knew where Hunt lived, his habits—heck, she'd even peeked at a copy of his recent physical, courtesy of her buddy in the insurance department—and tonight's agenda, thanks to Hunt's chatty secretary, a woman old enough to be his mother yet sincerely in lust with him.
Lindsay had no problem with Ruth dating Hunt, a much younger man, but she doubted Ruth's husband and grandchildren would feel the same.
Chuckling at her odd turn of thought, Lindsay gathered her tools and tucked them into a discreet black backpack. Pulling on a ball cap and tucking her hair underneath as best she could, she resolved to keep to the shadows, grateful for the clouds and waning moon.
Fifteen minutes after leaving her place, she arrived at Hunt's home in an upscale section of town, a modest cottage on The Hill. She parked several houses down and glanced around, noting his black GTO conspicuously absent.
Breathing a sigh of relief, she left her car and walked toward his home as if she were expected and tried to remain cool. The moon's ambient light was nearly nonexistent, but she wanted no chance of being noticed. Hopefully, his neighbors were used to seeing women coming and going at all hours of the night. And it was Friday, when normal people with a life were out partying.
Lindsay frowned at the thought and walked up his drive. How the hell could she expect to have a life when no one treated her seriously? Most men wanted to date her for sex and little else, and in the past, those few she'd been passably interested in had listened to the rumors about her and believed them.
Her anger returned in full force, and she hurried toward Hunt's back door, out of sight of any passersby. Studying the exterior of his home, she noted the lack of motion detectors as well as security signs anywhere along the drive. Sara had been right. Hunt hadn't installed security yet. Lindsay reached for the knob to the backdoor, surprised when it turned easily.
So sure of yourself, hmm? No one would dare steal from the great Jared Hunt.
Letting herself in, Lindsay performed a quick survey of the premises using her handy little flashlight with a red lens to mask her presence. A galley kitchen overlooking a family room connected to a hallway, to which a bathroom and two bedrooms were joined. The décor was tasteful but bland. Obviously a rental.
Ignoring the family room and kitchen, she darted to the bedrooms, where she'd most likely find something worthy of blackmail.
A man like Hunt would have something he wanted to hide; she could feel it. A man who lied to gain admiration from bozos like Maclearn and Simmons had skeletons in his closet.
She just needed to find those tawdry bones.
Her search showed her a disturbingly organized man. In his bedroom, his dirty clothes actually sat in a hamper, and his shirts and pants hung divided in his closet. His shoes had been carefully grouped together, his ties hung to prevent wrinkles and all the same distance apart.
Hmm. Is this guy obsessive about his organizing or what? Is he inordinately fussy? I bet he's a major pain to live with.
Lindsay brightened at the thought of Hunt's flaws. After searching for evidence to corroborate any embarrassing proclivities and finding none, she left to search the next room. In the spare bedroom, one he clearly used as a study, she turned on the monitor to his computer and found him still logged in. A history of his internet searches showed a few porn sites.
Porn sites—money shots. But after a thorough search of his data files, she found nothing of herself, naked or clothed.
Which brought her back to the X-rated sites he seemed to favor. They emphasized blondes with large breasts and a ton of man-on-woman action. Good lord, but how did a man expect a normal woman to enjoy sex when he had her bent in half like that? She peered closer at the screen and froze when the sudden roar of a car sounded.
Damn it. Lindsay glanced at her watch and noted more time had passed than she'd thought. An hour of searching and she'd found nothing.
What the hell was he doing home so early? She took a few steps toward the exit, reminding herself she'd taken pains to leave everything as she'd found it.
She let out a relieved breath and had exited the room when she stopped in her tracks.
You left everything as you found it…with the exception of his computer! Moron.
She hurried back to close the browser, turned off the monitor, then shut off her flashlight.
The front door opened, so there would be no slipping out unnoticed just yet.
She slid behind the spare bedroom door, praying the darkness held.
She could barely see her hand in front of her face and hoped his night vision was as poor. The cloud cover providing nonexistent moonlight certainly helped.
Lindsay held her breath as footsteps sounded in what she thought was the kitchen. Another door opened, and a soda top popped. The refrigerator. Crap. It was nearly midnight. Would Hunt putter around the house? And…oh, God! Was he alone?
Straining, she thought she made out only one set of footsteps. He tread along the oak wood hallway with a measured stride and passed by the spare room alone.
Lindsay exhaled with relief and decided to make her move while he puttered in his bedroom. But every time she decided to bolt, he'd sound as if he were coming closer.
Hunt hummed under his breath, his deep voice making her itch to… Well, to do something she'd regret. He might be a jerk, but he was a handsome jerk who always smelled good.
For the first time in a long time, her libido responded to a man, and said man turned out to be as bad as the idiot twins. Just her luck. Her stretch of celibacy was growing not only tedious but frustrating as well. Why else would she still hunger for a creep like Hunt when she knew he was no good?
The sound of running water jerked her out of her reverie, and Lindsay decided to make her move. She hurried to the front door only to find it locked with some kind of weird contraption she couldn't figure out. No ordinary lock for Hunt. Hell.
The shower suddenly stopped. A light flicked on from the hallway, exposing her, so she shot back toward the space she'd thoroughly investigated and she raced for the best hiding spot she could see—behind the slatted closet doors in the spare bedroom.
Thankfully, the hinges made no noise, and the only neighbors she had in the roomy closet were a leather jacket and a trench coat that would see little wear here in the South but would provide adequate cover.
She'd hidden just in time. Through the slats, she could see the vague outline of a darker shadow in the doorway before the light behind him completely winked out. Lindsay froze like a deer in the headlights, more than grateful when he shuffled toward his computer instead of the closet. The desk the computer sat on was perpendicular to the closet, and she faced the side of the monitor.
From her vantage, she'd be able to see Jared's profile and the material he viewed when he turned on the monitor. Lindsay shivered, both from nerves and excitement. What the hell would she have said if he'd opened the closet door and found her there? Hi? Her adrenaline surged, and she wiped her hands on her shirt. Perhaps tonight wouldn't be a total waste after all.
He flicked on his desk light and computer monitor, and her mouth dropped open.
Jared Hunt stood before his desk without a stitch of clothing on that beautiful, streamlined frame.
Corded muscles clenched and released as he bent low, his delineated abdomen making her mouth go dry. His arms were tight and larger than she'd thought, his biceps making her think he must lift weights, regularly. He turned slightly, bringing attention to his thighs.
Lindsay couldn't breathe. Long and muscular, his legs belonged to a runner or cycler. And that ass looked as if it could bounce a quarter.
And then Jared shifted.
She couldn't blink. Holy hell. Jared Hunt had a cock both long and thick, and he was more than aroused. She should have grabbed her phone and snapped a few pics, if for no other reason than to capture the memory of perfection. But she stood transfixed, unable to look away from such male beauty.