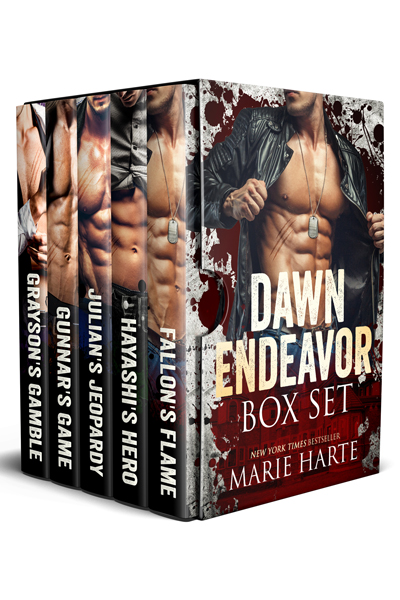 Get all four Dawn Endeavor books with a bonus fifth book!
Dark, sexy, and full of suspense, meet the Dawn Endeavor team–US SEAL shapeshifters gone wild!
Genetic manipulation has created the first super soldier, the Circ. Able to transform into hulking, inhuman beasts at will, the second generation of Circs, under Project Dawn Endeavor, is much more dangerous than the first. Psychically gifted, the secret four-man team who once worked for the Navy now belongs to the mysterious Mrs. Sharpe. Bent on cleaning up science gone wrong around the globe, Mrs. Sharpe sends the men of Dawn Endeavor out on behalf of the United States government.
But there's more to her agenda than patriotism. Maybe even…matchmaking?
If only the team knew what she really had planned.
This box set contains Fallon's Flame, Hayashi's Hero, Julian's Jeopardy, Gunnar's Game, and a bonus Grayson's Gamble.
Note: this collection of stories is dark, sexy, and has fast-paced scenes of violence and fighting. Beware mutated shifters, government conspiracies, group sex, and rough shenanigans in and out of the bedroom. One female must submit to several males, along with other pack partnering. Expect mm and mmf+ joinings. These Circs all live and love together. But each book has a primary pair or threesome who mate for life.