New York Times and USA Today Best-Selling Author
Prey & Prejudice Cover Reveal
Cover reveal for Prey & Prejudice, coming to Samhain Dec 31st. Kicking in the new year right!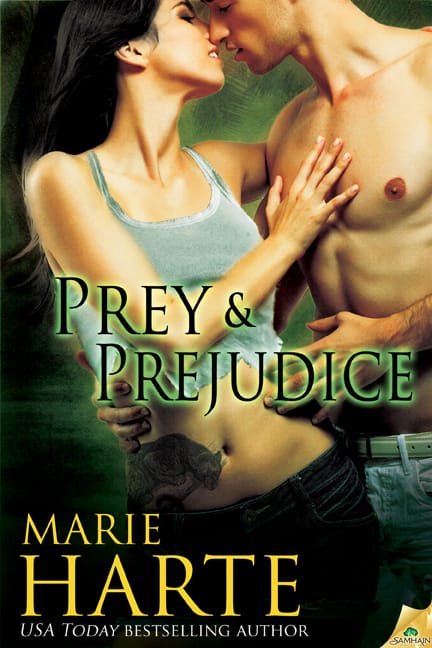 Coming to Samhain December 31, 2013
Her mission is simple: love—and rule—with extreme prejudice.
A Cougar Falls Story
Shapeshifter Miles Bermin prefers to focus on business, something at which he excels. The only problem is that somehow everyone thinks he's the new pride leader—a position he doesn't want. At. All. If that's not bad enough, he's been put in the path of an Amazon with a mission to rattle more than a few cages. Zoe Castille rides a motorcycle, wears painted on denims and has the ability to turn his brain clear off in the tiniest bikini known to man. She wants control of the pride, and that includes Miles at her beck and call. But Miles doesn't bow to anyone. Not even a woman he wants more than his next breath.
No one plays Zoe in the bedroom or out of it. It'll take some fancy footwork to show the arrogant playboy who's boss. He wears designer clothes with labels she can't pronounce, has women flaunting themselves at him, and grates on her last nerve. Yet she can't stop thinking about him. She soon realizes that to get what she wants, she might have to give in a little. Then Miles shows her there are times when it pays to give up control.
Warning: The final battle. One cat to rule them all…or at least, one tiny bikini to rule them all. Beware felines in the Miami heat, and never trust a raptor to do a panther's job.
For an excerpt, click here.