New York Times and USA Today Best-Selling Author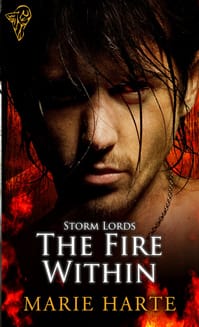 Currently not available, pending re-release
The Prince of Fire needs a woman hot enough to withstand his heat, and he finds one who'll set his heart and body on fire, in more ways than one.
The land of Tanselm will fall to evil if four identical princes wielding elemental powers fail to find their intended brides. Thrust into the parallel realm of earth to escape death and ensure a future for their world, they have one mission and one mission only—to find their destined affai.
Darius Storm, the Prince of Fire, is impatient and frustrated to be so far from his home. The foreign world into which he's been thrust lacks magic. And the women lack the inner power and strength to truly connect with him. His work at a local nightclub only brings him into contact with more unsuitable prospects.
Until Samantha Brooks walks through the door. She's a beauty with the fiery passion to meet Darius head-on, and a special magic all her own.
Someone had to still be here. She wandered around looking for signs of life and noticed a door reading 'employees only' cracked open. Much as she longed to go to her hotel and deal with this later, she needed to find out who had left the doors unlocked and the floor untended.
She entered cautiously, feeling like the dim-witted victim in a horror movie who searches an abandoned warehouse only to find death in the arms of a deranged serial killer.
Samantha despised those films for portraying the victims as so hopelessly stupid. But as she descended step after step, she wondered at her own intelligence.
Maybe I should just come back tomorrow. Her footsteps sounded like thunder on the cold concrete of the basement floor, and she hesitated as she reached the end of the stairwell light's perimeter.
"Hello? Is anyone here?" She flicked the light switch at the bottom of the stairs, not surprised when nothing happened. "Damn." Gerry could deal with the absent employee tomorrow. There was no way she was going to tramp around a dark basement, especially one that felt this eerie. She couldn't be sure if her imagination ran wild, but she swore she could feel someone, or something, watching her from the dark.
"I'm outta here." She turned around and put one foot on the steps when the stairway light flickered and died. Goosebumps crawled over her skin, making her shiver with more than just cold.
Reaching for the railing, she had ascended the second step when a hand settled hard over her shoulder, pulling her back into a large body.
She shrieked and flailed, trying to free herself from the strong arms suddenly caging her to a steely male frame.
"Hold," a deep voice sounded near her ear.
She immediately froze, her heart beating a mile a minute. Her breath caught as the arms around her loosened. A hand tugged at her wet hair, then trailed over her face and down her chest, lingering over her breasts.
Her face heated and she tried to yank herself from his grasp, terror gripping her hard, yet he continued to pat her down. His hands felt uncomfortably warm, stirring both fear and a curious ache in her loins that made absolutely no sense.
"Didn't I tell you not to come back here?" the deep voice asked. "I'm not your plaything." His hands returned to her breasts and tightened almost painfully. Odd, but his tight grip only excited her further.
As his words dawned, Samantha breathed deeply and sought some control over her off-kilter emotions. Okay, so the guy wasn't some psycho killer. He thought he knew her.
"Look, there's been some misunderstanding. I don't know who you are, but the owner invited me here."
His hands slowly left her body, grazing her nipples and shooting sparks through her already overloaded senses. She turned cautiously, ready to run at any moment. A sudden light lit the room and she blinked at the glare of flame in his hand. Odd, but she couldn't see the source of flame. If she didn't know better she'd swear his fingers were on fire. He cursed softly, breaking her stare on his hand and drawing her attention to his face. And all thoughts of nonexistent matches and lighters vanished.
Her eyes widened as they took in the dark-haired Adonis standing before her. Black hair grazed his shoulders, framing a face steeped in sensuality. Fathomless black eyes gazed at her, from her head to her toes, making her want to cover herself from his brazen inspection. Yet his study wasn't the least bit leering. It was full of male speculation, and downright dangerous.
Samantha couldn't help returning his study. The man had surprisingly arresting features, from his straight, aristocratic nose to his stubborn, squared jaw. And his body…tall and muscled, he could have appeared right at home in a muscle magazine.
"You aren't Janet." His voice oozed sex appeal, dark and husky, like the rumble of thunder that passed overhead.
"No, I'm not." She took a small step back, needing to regain her senses. Adrenaline coursed through her system, as much from the fright he'd given her as from his luring attractiveness.
He sighed and lowered his lighter. "I thought you were someone else."
"Obviously," she muttered and sneezed. She saw his full lips quirk into a smile and her heart beat double-time.
"As you can tell, the lights are out due to the storm. Perhaps we should head upstairs, where you can introduce yourself and explain what you were doing down here." He nodded to the stairs behind her, his words clearly an order rather than a suggestion.
She didn't care. Samantha wanted heat and more distance from the man rousing her sleeping libido. As she turned and quickly climbed the steps, she could feel his gaze on her back like a physical caress.
Shaking her head, she reminded herself that too little sleep and this weather had made a muck of her sensibility. Stiffening her spine as she entered the warm atmosphere of the club once more, she headed for her things behind the bar and turned once she had a firm grip on her satchel.
She hadn't heard him move and gasped to find him standing right behind her. Had this guy never heard of personal space?
She swallowed audibly. Was it her, or did he seem even taller than the six-four she'd earlier estimated? "I'm Samantha Brooks, the assessor Gerry Barnham hired. I take it you work here."
"Let's see some ID, sweetheart."
She clenched her jaw. When he crossed muscular arms over a massive chest and leaned against the back wall, unmoving, she removed her wallet, flashed him her driver's licence and waited impatiently while he examined it.
Finally he nodded. Stuffing her wallet back into her bag, she turned to face him again, disturbed by his arrogance and his larger-than-life sex appeal. "And you are?"
"I bartend here for Gerry."
Not a bouncer. That surprised her. With his stature he could easily intimidate those not playing by the rules. But if he was one of the bartenders…he had to be Darius Storm.
Gerry had mentioned the amazing draw his newest employee had, bringing in more women than the club knew what to do with. Seeing him, she understood the attraction.
The man raked her up and down with an assessing gaze, his eyes returning to her face and roaming over her as if committing her features to memory. "I'm Darius."
She released a pent-up breath, hearing him confirm his identity. He really did work here. Unfortunately, her evil twin, the sexual imp dwelling inside her, lamented that he wasn't a sexual lunatic bent on ravishing her. She cursed her treacherous imagination and the blush that inexplicably stole over her cheeks and focused on the here and now.
His left eyebrow rose, clearly telling her he'd noticed the blush. "I wasn't expecting you tonight. Gerry mentioned you'd arrive sometime this weekend." He leaned closer to her, his arm moving around her and she tensed. He smelled of rain and spice, a scent she couldn't place but one that made her want to kiss the arrogance from his lips.
Instead of grabbing her, as he appeared ready to do, he pulled his hand from behind her back and handed her a towel with a smirk. "You're soaking wet."
Irritated that he made her nervous and that he knew it, she released her satchel and grabbed the towel from his hands, stifling a breath when her fingers touched his. A flare of heat raced up her arm from the contact and she couldn't help the shiver that passed through her.
He frowned. "You must be freezing." Moving swiftly, he wrapped her in his arms, much more gently than he had earlier.
"Hey! What the hell—" She paused as heat radiated through her. "Ah," she moaned, warmed by his unnaturally hot body. Hot in more ways than one, she amended.
With tenderness she wouldn't have credited him, he pressed her face against his chest. She could feel his heart beating rapidly against her cheek and wondered if she wasn't the only one affected by their proximity. But he made no other move than to hold her while her shivers passed.
Belatedly, she realised her hair and jeans were drenching him. "I'm sorry," she said in a voice more husky than she'd like. "I'm getting you all wet."
He rubbed his hand over her back in slow swirls, making her melt into his rock solid frame. Then he shifted slightly, making her aware of something else rock-hard against her belly.
Copyright © 2010 Marie Harte
All rights reserved — Total-E-Ntwined Limited, T/A Total-e-bound