New York Times and USA Today Best-Selling Author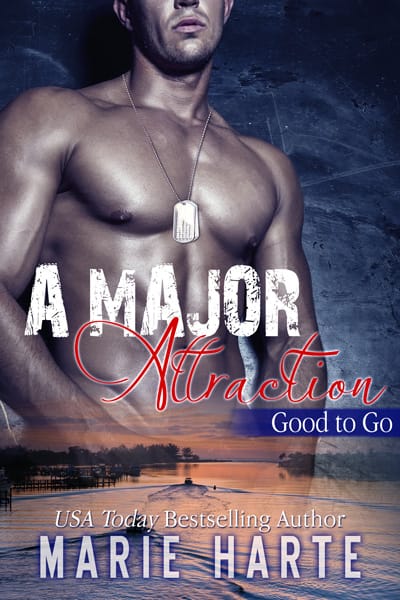 A steamy military romance!
He's got a surprising brand new house guest.
U.S. Marine Major Kyle Waters has recently returned home after months at sea. But on his first night home, his pleasant dreams turn from downright sinful into a nightmare when he wakes up, his arms full of a naked Olivia Cava–the woman he's been fantasizing about for months.
She's got a major crush on her host.
Kyle's scheming ex tricked Olivia into leasing an occupied house. Olivia's a professional career woman who finds herself drawn to Kyle. What's not like about smart, handsome, and kind? But growing up as the daughter of a career military man, she's vowed never to get involved with a Marine. Yet Kyle stirs something inside her, and she finds herself saying yes when she means to say no.
But she's vowed never to date a Marine. Can love find a way?
Their life goals seem worlds apart, but they're so happy together. Until Kyle's past relationship threatens to ruin the future he has only just found with Olivia. Can the truth set him free? And can Olivia put aside her five-year plan to forgive a stubborn Marine bent on loving her…forever?
"Come on, Olivia. I think you and I could be great roommates." He couldn't help the innuendo that laced his tone, too much in lust to control his tongue.
To his surprise and pleasure, she laughed at him. "Convince me, Romeo. What's so great about a man, and a Marine at that, as a roommate?"
"I'm neat, I cook, and I don't snore."
She chuckled, and he continued on a more serious note.
"I'll respect your privacy, and you'll be safe here. Trust me, no one will mess with you while I'm around." The thought of anyone harming Olivia made him see red.
"I really wasn't looking forward to moving," she said slowly. "It's very nice of you to offer to let me ride out the lease. I'd like to stay." She paused and blushed a deeper pink. "But about last night. That kind of thing can't happen again."
It can, and it will. "I understand." He changed the subject, not wanting to scare her into changing her mind.
For the remainder of the meal, they made small talk that put them both at ease. To Kyle's surprise, he felt as though he could tell Olivia anything. She listened to him, and for the first time in a long time, Kyle found himself having fun with a woman. He truly enjoyed her company. Her mind intrigued him as much as her body did, increasing his desire to know all of her. He knew he wouldn't last much longer without tasting her again.
Once they finished dinner, he stood and cleared their plates. He returned to the table and pulled her chair out to help her stand. Instead of backing off to give her space, Kyle moved closer, so that her breasts brushed his chest. She froze, her lips parting on a breath.
"The kind of thing that can't happen again. You mean something like this. I shouldn't do this again." He leaned down to skim his lips over her mouth. He moved slowly, giving her the chance to say no. She didn't. "I definitely shouldn't touch you like this." He brought his arms around her waist, drawing her deeper into his embrace.
"No, you shouldn't," she said on a breath, her eyes wide as they stared up into his. She licked her lips in invitation, and he lowered his head once more.
No holds barred, this woman belonged to him.