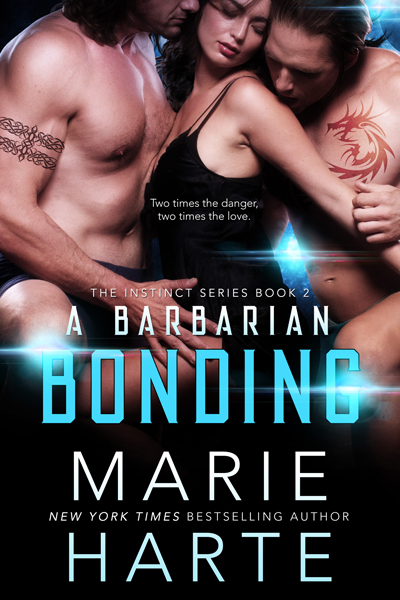 Keep a low profile
Avoid the sexy barbarians always watching
Try not to fall for both of them…
Mandy Jacobs sought a job on planet Ussed because it took her far from her problems on Earth. Her goal has been simple—keep a low profile. Not that easy to do when two larger-than-life barbarians are keeping an eye on her. Avoidance seems like her best plan of action…until danger from her past comes calling. Soon on the run from an old enemy, a new enemy, and hunky warriors with a crazy notion to claim her, she's running out of options.
Zhen and Lore have bonded, but they're in need of female to complete them. When they see Mandy, they know. She's the one. But the stubborn human female needs some persuading. And some saving, since she's got humans and a rival clan after her. With time not on their side, Zhen and Lore must convince Mandy that she belongs with them. And that if she'll let herself, she'll find acceptance in the arms of not just one, but two barbarians who have nothing but love to give.
A M/M/F bisexual, menage romance.
Had they called her smart? Mandy drew back inside the administrative building, hoping she hadn't been spotted. Smart? Ha. Mandy considered herself beyond stupid, considering she shouldn't still be on the planet, let alone allow herself to be constantly distracted by the sexy barbarians. So much for keeping a low profile.
In the year she'd been at the resort, she'd done her best to fit in. She'd discouraged attention, kept to herself, mostly, and had fended off her more serious pursuers with the silent treatment. Most of her fellow workers at the resort treated her kindly—she was in charge of handing out pay after all—and left her alone.
Yet it seemed like every time she turned around lately, someone had been leaving gifts on her doorstep. A flower, a sweet meat, some small gift. She knew the barbarians were to blame, because she'd spotted Lore dropping off a flower once. That and they constantly watched her. On shift or off, she forever felt their gazes on her, like a weight that seduced instead of frightened.
Lord knew, she should have been terrorized. Both males stood a good head and a half taller than her slight five foot three. They had plenty of golden muscle exposed by naught but loincloths, boots, and those animal hide arm-guards that covered them from wrist to elbow. Both possessed long, black hair kept out of their eyes by warrior braids at their temples. And the feature that truly stunned her, their golden eyes. A golden center in the middle of a white orb. She'd seen plenty of barbarians in her time on the planet, but the only one who'd had an eye color not gold was Lore. One of his eyes was green, the other barbarian gold.
The very first time she'd spotted the pair, she'd stared, entranced. For some reason, the two recent transfers mesmerized her. They weren't all that different from the others who'd worked security, but she'd sensed Zhen and Lore to be more dangerous. Thus her campaign of avoidance.
What did she get for staying out of their way? Presents. And those looks, the heated glances, as if they'd seen her naked and relished the fact. She'd never given them any hint she was receptive to their gestures, yet they didn't seem to care.