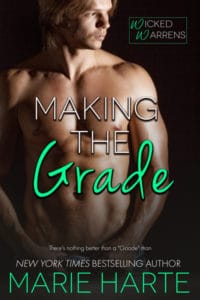 There's nothing better than a "Goode" man.
Brian Goode is in a tough spot. With all his friends getting married, and his sister in a relationship with not one, but two men, the love bug is hovering around his heart, ready to bite. Trouble is, he's tired of playing a field full of gold-digging women.
Then there's Faith Sumner. She's gorgeous, genuine, and turns him on without even trying. Time to suck it up, ask her out, and pray their blazing attraction won't dissolve into another lukewarm disaster.
Faith is finished dating wealthy men. No longer willing to let anyone make her feel inferior for her humble roots, she's finally making good choices. Except this "Goode" choice turns out to be exactly the kind of man she's sworn off.
Though she's content to keep their one-night stand to a single amazing, unforgettable mistake, Brian's persistent wooing—and convincing groveling—begin to turn her head. Until Faith's ugly past comes calling, redoubling Brian's determination to show her she's worthy of loving, and being loved…
This book has been previously published.
Release Date:

May 29, 2018

Publisher: No Box Books
ISBN:

9781642920079

Length:

Novel
He opened the door and led her into his home.
And bam, her anxiety returned.
Faith saw money everywhere she looked. Nothing over-the-top ostentatious, but quality furniture, countertops, appliances. Comfortable and stylish and unassuming. Which meant costly.
It made her ashamed of what her apartment must have looked like if this was what he saw on a daily basis.
"Faith?" He frowned. "You okay?"
"I need a drink."
He nodded. "Wine, beer, water. Whatever you want." He moved around her and walked to the fridge.
To her amusement, when he opened it she saw his food organized and way too neat. "You're a little OCD, aren't you?"
His faced reddened, and she found him absolutely adorable. Her unease about his wealth began to fade.
"I wouldn't call myself obsessive—"
"Just compulsive?"
"Smartass." He grabbed a water, twisted off the lid and drank.
When he finished, she took the bottle from his hands and drank—her mouth right over where he'd had his—then handed it back.
His eyes darkened. "Hmm. The bet. What should I pick for you? Something worthy of my grand win."
"Please. You got lucky."
"Lucky? I spelled 'obsequious' backwards."
She shrugged, feeling warmer the more he stared at her. Why the hell had she not put up more of a fight over being near the man in private? She knew better. Her control over her sexual impulses improved with distance. But in close quarters? In the privacy of his own home where no one would see her lapse in judgment?
Hell. She was dying for a repeat performance of their first time.
"How about this?" He took another swallow of water, watching her all the while.
"Yes?"
"Well…"
"Quit dragging it out, Goode."
"Snippy little thing." He moved in on her, and she sucked in breath. Brian leaned close, his lips almost touching her collar bone.
"Brian?" she whispered, totally turned on.
"You smell good. All the time." He leaned back and smiled at her.
The warmth in his gaze lured her forward…until he stepped away.  "Come on in to the living room."
Swearing silently, she followed him after getting a handle on her stupid hormones. "Okay, the bet?"
"You agree to join me at the club this weekend. One room. Just you and me. Any fantasy you have, and I mean anything, and it's yours. But you have to be honest with me. No holding back."
She blinked. "Um, what?"
"You heard me. Or are you too chicken to play?"
Oh, a dare. That set her back up. "I thought it was double or nothing?"
He grinned, a mean smile that looked totally out of place on the charmer's face. "I get to play out my fantasies as well. With you."
She licked her lips. "I thought we weren't going to have sex again until we knew each other better."
"You never knew your father, you don't talk to your mother, and you have no siblings. You love your friends, are loyal, funny, and sexy as hell. You favor milk chocolate over dark, crave coconut cream, hate being used, don't like rich assholes—which obviously excludes me—and use Dylan Warren as your therapist. Oh, and you have the sexiest body I've ever seen."
She just stared at him.
"Ask me any question you want to know. I'm an open book."
She didn't know what to ask.
"I like you. A lot," he admitted. His words warmed her from the inside out, because he wasn't looking at her body, but her eyes. "You're so funny and snarky and sweet too, when you're not telling me to kiss your ass and rejecting my apologizes."
Her cheeks heated, and he grinned.
"I know I'm not the only one feeling things between us. Am I?" He sat down in a large leather arm chair and tugged her down into his lap, forcing her to straddle him.