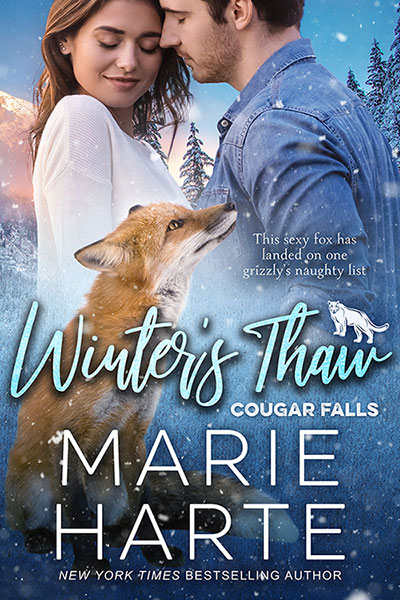 'Tis the season to get furry!
Welcome to Cougar Falls, where one sexy fox gets on a sweet grizzly's naughty list just in time for Christmas.
Saving attorney and fox shifter Gerald Winter from angry raptors should be Deputy Laura Novak's good deed for the season. But trapped with Gerald during a storm, she's feeling a lot less than happy for the holidays.
Gerald should be miserable, stuck in a rustic cabin with his nemesis over Christmas. But somehow, the woman he always butts heads with has become sweet, beautiful, and a lot more than a growly grizzly.
As they grow closer and the mating instinct rises, they'll have to decide if their feelings can overcome assumptions. That's if the danger waiting for them doesn't end things before they can begin.
* Winter's Thaw first appeared in the Shifter Christmas Howliday Anthology
** contains 2 stories, including 1 brand new, never-before-seen version of Laura and Gerald's romance!
"Move your ass," Deputy Laura Novak yelled to the fox currently slipping and sliding through the snow and ice as she slowed her SUV, the back open, waiting for him to jump in. He needed to be running as if his life depended on it.
Because it did.
Bullets hit the side of the vehicle, and she swore as she swerved around a downed tree and turned onto a road that led into bear country.
Technically, it was all Ac-taw country. Shifters lived in Cougar Falls, a small town off the map near Whitefish, Montana. Only those with connections to the Ac-taw could find the town. Unfortunately, being a shifter didn't come with a guarantee of good character.
More gunfire ripped through the night, and she promised herself to make those jackasses pay. Guns were prohibited in town. With pretty much everyone able to shift into creatures with claws and fangs, firearms weren't necessary. And for the humans living among them, bows and arrows and knives were the preferred method to dealing with threats.
The fox barked at her to go as he launched himself into the back of the SUV, and Laura pressed the accelerator to the floor, fishtailing as they sped up.
Fortunately, the brutal winter wind and approaching storm would slow some of the raptors. The larger birds of prey who could have handled the ferocious winds weren't a threat, having months ago branched off into the steady, well-adjusted eagle clan. That left the smaller, winged predators, those of the current raptor clan, to attack.
But even for them, this had gone too far. She spotted two vehicles losing speed behind them and a few feathered enemies trailing behind as well.
"You just had to defend Kyle even though I told you not to," she said through gritted teeth and held onto the steering wheel for all she was worth. The path grew uneven, juts and divots in the dirt road covered in snow and ice, making it more difficult to drive. But she could lose them this way, and she had a destination in mind.
"I'm a lawyer, Deputy Novak. I do my job regardless of the dickheads in opposition," came the frosty voice of Gerald Winter. Aptly named, the fox shifter could turn that ice in his voice on and off at will. "Damn, it's cold out."
She glanced in the rear-view and watched him dive into the clothes she'd brought for him.
He caught her gaze and glared, his golden eyes shining for a moment before the fox inside simmered down. For such a good-looking man, he did frost bitch like no one's business.
For some reason, he'd never warmed up in Laura's presence. Then again, he had enough women in town panting for him that he probably didn't care. Or notice. But Laura was used to that.
"Yeah, well, I hope that law degree provides a better protection than my I told you so."
"You are such a pain in my—"
"Yes?" she asked sweetly, secretly hoping the normally unflappable lawyer would just let go for once.
But she was the one swearing as they went airborne.
She heard him hit against something, likely the ceiling of the SUV. She made a sharp right up a covered trail barely big enough for the SUV to fit through. It was a path only the bears took when planning to use the cabin ahead.
It was also tricky as hell to maneuver, and that was in good weather.
Then what she'd been hoping wouldn't happen happened.
The vehicle tipped sideways on two wheels. "Brace yourself!"
Gerald swore. Bingo, she thought just as the truck rolled.
And rolled.
Strapped in, she'd had opportunity to prepare, but she still took a few hits as the front window smashed and a tree branch slammed into her seat an inch from her shoulder when it pierced through the dash. But the grizzly inside gave her strength, and she was in one piece as the vehicle came to a stop.
The same couldn't be said for the man in the back. She smelled blood, and when she untangled herself to turn, she could see he'd taken a few knocks.
"Gerald?" Never Gerry or Ger, Gerald Winter had been a precise and logical kind of guy for as long as she'd known him—practically all of her life.
But he'd never been mean. Arrogant, yes, but as a fox, that was expected. The town organized by shifter type, and each clan had certain characteristics. The foxes tended to be arrogant and dramatic, the bears laid-back, the raptors argumentative, the wolves secretive and problematic, and the cats unpredictable. Generalizations, but they usually held true to form.
Still, Gerald maintained a popularity due to his smarts, looks, and sense of humor, or so she'd been told. Personally, she'd never seen or heard him be all that funny.
He didn't answer, so she hurried out of the vehicle, which had fortunately rolled to a stop right-side up. She found the trunk door stuck and used her enhanced strength to pull it open. In human form she maintained a human's senses, though she could occasionally tap into her grizzly when needed.
And it sure came in handy now.
She took one look at the battered attorney and knew she needed to stabilize him.
"Gerald?" she asked again, wondering how much time they had before the raptors found them.
With the growing storm, they might be okay from the raptor threat. But Mother Nature would only be taking their place.
"L-Laura?" He blinked his eyes open, but they didn't focus.
"I think you might have a concussion." She hurriedly gathered a large bag she kept in the SUV for emergencies. Then she took Gerald's bag while he tried to sit up. "No, lie down."
"I'm okay. Just dizzy." He sat up anyway and wavered.
"Come on out, Gerald. Easy now."
Once out and on his feet, he towered over her, which she found annoying. Of course he had to be sexy, smart, and tall. At five-ten, she typically didn't need to look up at most men.
"Laura?" He stroked a finger down her cheek and gave her a dopey smile. "You're pretty." How insulting that he sounded surprised.
She flushed, something she never did. Only Gerald could get under her skin like that. "Okay, Romeo. I need you with me. Are you with me?" Despite the danger, she had a tough time focusing because he wore nothing but sweatpants. And his upper body had surprising definition for a man who sat behind a desk all day.
He blinked. "With you. Yes." He rubbed his head and winced, and blood trickled down his temple. Likely a gash matted in his sandy hair, now darkened with dirt and blood.
"I'm going to shift into my bear. I need you to strap the bags around me. Then shift into your fox and climb on. We need to hurry."
"I can run."
"Not fast. And I know where we're going. You don't." She wiped her face from the snow falling harder. "Today, Gerald. Let's go."
"You're not the boss of me."
She stared at him. "Did you really just say that?"
"Maybe." He sounded like a sulky little boy, and she hated that he looked even more attractive all beat up.
She laughed. "Aren't you cute."
That got a tentative smile from him. "Okay, okay. Hold on." He took a deep breath, closed his eyes, then let out his breath and focused on her. "Go."
Laura frowned. "Turn around."
"For God's sake." He turned around while she rushed to strip. She shoved her clothes and boots into her duffel then shifted into a four hundred pound grizzly.
At her grunt, he turned around. Seeing her, he nodded with approval. "You're annoying as a human, but you make the prettiest bear."
Flatterer.
Though she couldn't communicate with others outside her clan when shifted, Ac-taw had perfected the art of reading body language. She batted her lashes then snarled.
He chuckled. "I know. I'm hurrying." He hung the duffel strap over her head and looped the strap of his backpack over as well. Then he shucked out of his pants and tucked them in his bag before she could blink.
Oh my gosh, what a body. Full frontal, hel-lo.
"Quit staring. You're making me uncomfortable," he deadpanned before shifting into a beautiful red fox.
Gorgeous, with dark red fur along his torso, which tapered to dark brown on his legs, the tip of his tail, and his ears, he also had white along his belly and up under his chin. But those golden eyes drew her. More brown when a man, but she knew him anywhere and always had.
He chirped and laid back his ears. She lowered her body. Once he'd climbed on, she took off, praying they made it before the storm broke wide open.
And that her last message to the sheriff had gone through, or they really were on their own with a bunch of homicidal birds on their proverbial tails. And just in time for Christmas.
Ho ho ho.