New York Times and USA Today Best-Selling Author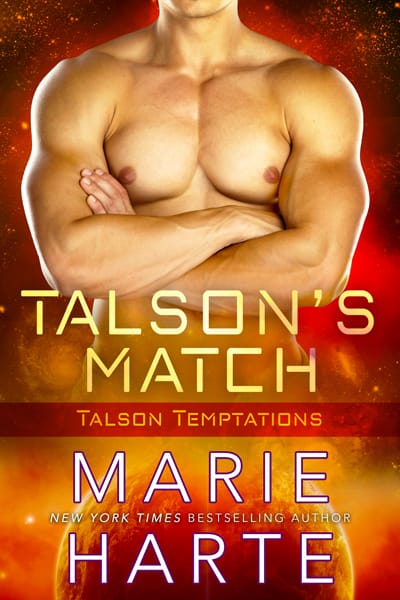 Romec Talson is the last of his brothers to find a mate, and he's in no hurry. So it's a relief to check on the strange progress of one of the family's shipping terminals on Earth, away from the manipulations of his happily mated siblings. The last thing he expects to encounter at Port Chase is the woman of his dreams. A supposed human glaring at him with dark eyes–Otra, alien eyes. And then there are her accusations that Talson Shipping is running an illegal drug trade.
Tara Drake has no idea why the stranger at her door makes her hot and bothered, but if he works for the Talsons, she wants no part of him. Unfortunately, her body has a will of its own. Learning she's not human is just the beginning of the surprises coming her way. Because love has no rhyme or reason in the face of fate, Tara must make a choice to accept her destiny or deny herself true happiness.
This book has been previously published
Someone knocked on the door and Mannie's eyes flashed, a disturbing hint of silver in his pupils. She'd never seen that before. What the hell was going on with her brother? Was it in any way tied to what had happened to her earlier?
The silver eyes, his prophetic dreams… Her suspicions Mannie might not be fully human resurfaced, and she quickly buried them. She knew herself and her brother. Orphans and psychic freaks they might be, but they were human.
"Mannie?"
"I'll get it." He rushed to the door and ripped it open.
From her position in the kitchen, she couldn't see the person in front of Mannie, who blocked her view. But heat flashed through her body from head to toe. An odd flush, an awareness, told her to pay strict attention. As if her entire future hinged on this one man. Uneasy, she tried to see him but couldn't because of Mannie. To her surprise, the visitor stood at eye level with her brother. Not a small man then.
"Hi. Can you tell me where to find Talson Shipping?" The deep, soothing voice of the stranger intrigued her, and Tara left her stool.
She stepped closer to see who'd knocked. Standing next to Mannie, she couldn't help staring, enthralled at the man meeting her brother's glare. As tall and broad as Mannie, if not as heavily muscled, this stranger looked even better than Trotter.
Cropped, jet-black hair so dark it looked blue surrounded an arresting face. His eyes reminded her of Romec's, both almond-shaped and with an arrogant expression in them. Unlike her cat's beautiful gray-green color, this man had dark eyes, black eyes. Otra eyes. Again the similarities to Trotter grabbed her. But this man also had laugh lines and smooth lips that quirked easily. His nose was patrician straight, his chin strong, as defined as his angular cheekbones.
To her shock, she felt a familiar tingle. The need to heal, yet nothing in the man seemed unhealthy. Just the opposite, he fairly glowed with health, and something more. An odd power that gave him a sense of infallibility.
He looked human enough. But she knew he was Otra. He seemed almost magnetic. She took a small step forward, but Mannie cleared his throat and deliberately moved to block her way.
"Talson Shipping is next door," Mannie said brusquely, apparently not liking the way the stranger's eyes had gravitated to her face.
He had yet to blink. "Hello," he drawled. "I'm new to the area, just transferred into Port Chase for Talson Shipping."
Hearing him mention the Talsons a second time made her want to groan. He was so handsome, so big and strong. He radiated sex in waves, enough to awaken even her slumbering libido. And he worked for the jerks next door. Life was so unfair.
The more he stared at her, the faster her heart raced. An almost drugging sexual hunger seemed to fill her, and she had to work to shake off the erotic sensation. First the bathroom, now this? What the hell was wrong with her?
She took a hasty step back and fought the desire turning her nipples into visible beads of arousal. She crossed her arms with a belligerence the stranger couldn't miss, while inwardly she sighed. What a waste.
Time to set the stage for Mr. Friendly. "Look, buddy, Talsons' folks aren't welcome here, so move along to the thugs you work for and stay off my property. My brother is Killer Drake, the heavyweight boxing champion of the BCF Southeast. So if I'm not scary enough to listen to, he is."
The stranger's eyes widened and he grinned at her brother. "No kidding? Yeah, I thought you looked familiar. Great bout against Murmo last year. You have a helluva right hook. I won a bunch of money on the outcome. Thanks."
Mannie shifted on his feet, fisting his hands. He seemed unsure about the compliment. "Whatever."
"Hey, I'm sorry for intruding. I'll get out of here and out of your hair. Don't worry. I have no intention of bothering you. I'm just here to do my job for the Talsons." He stepped back and waved, as polite and charming as Trotter was lecherous and slimy.
"Hope you like Majesty," Tara muttered as Mannie closed the door behind him.
"What did you say?"
Crap. Mannie heard everything. If he knew the Talsons were moving drugs right next door, he'd pick her up over his shoulder and haul ass out of town.
"I said I hope you like His Majesty, as in Trotter."
Her brother stared with suspicion but eventually moved back to his lunch and continued to nag her about leaving. After half an hour of refusing to budge, she pushed him out the door with a promise to visit next week. As if a trip uptown, and to one of the nicest penthouse apartments in Port Chase, was a hardship.
Sighing at the amount of time and great lighting she'd lost, she hurried back into her studio and applied paint to canvas. But as she worked, a dreamy lassitude seemed to fill her, and her heart directed her strokes as a face slowly took life in her painting.