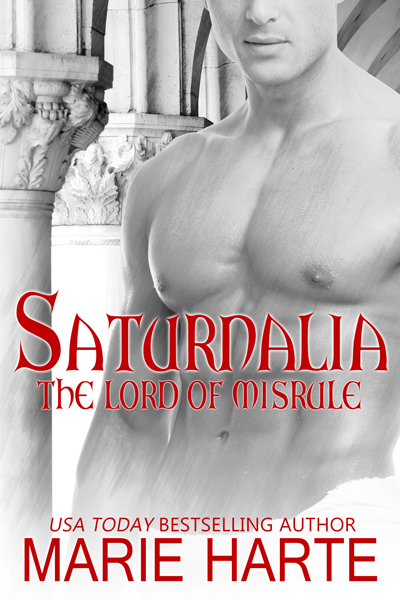 Each year, Saturn requires special tribute, and he prefers abundance in sexual favor, suitable sacrifice for the god of nature and the harvest.
Matteo Silvano and Renato Fortuna are up to the task, both charged with continuing their town's prosperity. Used to sharing women, the two are drawn toward something deeper than friendship with the addition of uniquely lovely Allegra Valente.
When the proper tribute is paid, Saturn will reward not only the town, but Matt, Renato, and Allegra with a very special gift that will last an eternity.
Matt smiled at the older man welcoming them with open arms. He and Renato had been introduced to the entire waiting family, a dozen of Allegra's eager cousins, aunts, and uncles who appeared to relish the arrival of this very special woman who didn't yet know her value.
Matt knew, as did Renato, and every breath they shared with this desirable female put Matt one step closer to sexual combustion. As if sensing his regard, Allegra turned, laughing with her newly met cousin, and smiled when he nodded her way. Christ, but if she kept looking at him like that he was going to start the celebration early and fuck her where she stood, spectators or no.
"Matteo, I need a minute." Renato motioned him over. "Signor Valente," he said to Tony's brother, Giorgio. "Might I borrow your study for a moment? I have an issue to discuss with my partner needing privacy. We won't be long."
Giorgio was all over himself to lend a hand and ushered them into the study, closing the door behind them. The older man knew who they were and why they'd come, and if Matt wasn't mistaken, Tony and Donna knew as well. The older couple had been shooting them reverential looks. Hell, the fact that they'd brought their beloved granddaughter, all but pushing the three together in the car, pleased him to no end.
He swore as his cock pressed uncomfortably against his boxers, wishing he could rid himself of his growing attraction. But he'd been born for this very purpose, and having the female he'd been waiting for here, next to him in the goddamn car, had been intoxicatingly cruel. How Renato could stand it was beyond him.
"Matteo?" Renato said quietly.
Matt turned to face him and saw a familiar gleam in his friend's eyes. Shit. Not now. It was all he could do to hold on. He couldn't deal with Renato's lust, too.
"Don't start, Rene."
"Come here."
Matt frowned. "This isn't a good idea. We need all the time we can get with her before tomorrow. Because –"
Rene cut off his next words with a hard grab. In two seconds, the large man had his hand down Matt's pants and wrapped around his cock.
"Rene," he growled, not in the mood to play games of dominance with his best friend and sometime lover. He was hard enough from Allegra, he didn't need Rene adding to his frustration.
Then Rene moved closer, and Matt felt his friend's erection through the silk of their trousers, which made it worse. Knowing he wasn't the only one affected made it that much harder to hold onto his tenuous control.
"What the fuck are you doing?" Matt whispered furiously, conscious the door behind them could open any minute. Yet he couldn't resist the large palm molding him, and he pressed deeper into Rene's grasp.
Copyright © 2013 Marie Harte
All rights reserved, a No Box Books publication