New York Times and USA Today Best-Selling Author
Duncan's Descent: A Demon's Desire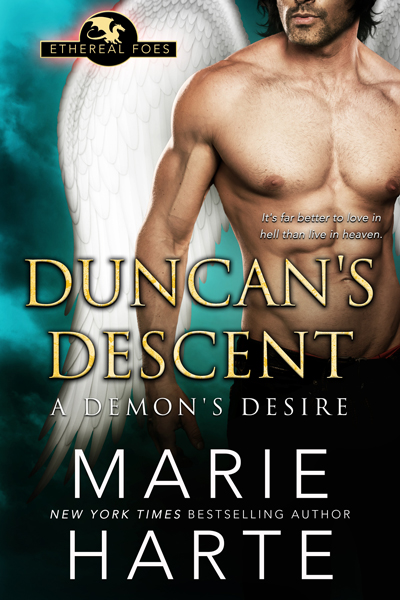 'Tis far better to love in hell than to live in heaven.
As a demon of the Ethereal, it's Duncan Sinclair's job to sway humans toward the path to hell. Duncan is very good at his job—until a prank gone wrong lands him in the upper realm doing penance. Now he's being bombarded with love, kindness, and affectionate sex…and it's killing him. The only way out is to agree to sway souls for heaven, with an angel as his partner.
Sapphira may be an angel of the upper realm, but she chafes in a bland existence where everything is so pure. It's hard to hide her secret yearning for sin. Even harder with Duncan, who's everything the dark core of her soul craves: handsome, sexy and refreshingly naughty.
Confronted with an angel who drinks, swears, and takes him to bliss with her sinfully delightful body, Duncan finds himself at risk of losing his heart to the enemy.
Loving this angel could land him right where he doesn't want to be—heaven. But what's a demon to do when he's falling?
This book was previously released.
"Where to, fearless leader?"
If that attitude wasn't enough to make her fall in love, that body sure as hel—heck—was. The fact that Duncan had made Uriel lose control amused her to no end. Sapphira herself had caused Mr. High and Mighty to raise his voice a time or two. To her discomfort, those occasions had been effortless. But how was a young angel to know what not to do when everyone preached love and happiness all day every day? So she'd engaged in sex with humans. She questioned Descension, sin, and what led many to ruin. Sapphira couldn't quell her fascination for the lower realm, much as she tried to suppress her curiosity.
But how could an angel hope to stop thinking about the forbidden when it came in a package that looked like Duncan? Another glance at him showed a ripped upper body and golden, powerful thighs that appeared more muscular each time he shifted in the thigh-length cloth. And…oh baby, when the cloth molded around his impressive shaft, her body warmed with anticipation. Dam—darn it, she wanted to wipe her mouth to make sure she wasn't drooling.
She hurriedly shifted her thoughts, trying to remember what Duncan had asked her. But irritation returned when she spotted Uriel passing in the corridor to her right.
Uriel had too many rules. Angels had to adhere to so many strictures. So many demands on them to help, heal and deliver that it made it hard to simply exist. For her part, Sapphira couldn't stand all this sentimental claptrap about saving the world from itself.
Another glance at Duncan reminded her of who, specifically, they had to save—his question in the first place—and she sighed. "Nathan Shepherd. The Towers in King of Prussia."
"King of Prussia? That's near Philly, my town." Duncan smiled and crossed his arms, his biceps bulging lovingly over a broad chest partially exposed by the thin white silk covering him. Her fingers itched to touch his firm flesh, and she wondered if his nipples would taste as sweet under her tongue as she imagined. "…do you think?"
She blushed, embarrassed to realize he was waiting for her to answer. She'd missed most of what he'd said, too busy ogling the man to listen. "Right." She frowned, as if irritated with him. Looking mad would hopefully make her appear a stern, commanding angel. Hell, it worked for Uriel. "So let's change into something appropriate for the Ordinary and get down to business."
Duncan quirked a brow at her. "Don't tell me you plan on doing what Uriel says."
"Of course I do." I hope you're hearing me, Uriel. Or Sarah, or Abigail, or any of the other angels dogging my every step. "It's an honor to protect the balance. I'm told you and your brother and sister work to sway the souls bent on Decision. Your knowledge will help us do as we're meant." That about summed up what she'd been lectured on for the last several years. "Oh, and I just wanted to add what a pleasure it is to work with such an established Decision maker." Right, keep it positive. She wanted to choke on the words, but forced them out regardless. "I want only to restore harmony and balance…and love."
Duncan frowned, and she wanted to kiss him for having a disagreeable bone in his body. "On that note, I'm ready to leave. Let's get the hell out of here."
Thank God. Sapphira nodded pleasantly and took his hand, flashing them to the area where clothing suitable to the middle realm sat on hangers and in heaps for those needing them.
Anticipation surged, the knowledge that soon she would once again be surrounded by greed, lust and conflict, by the very qualities that made humanity what it was—exciting, lively and a complete opposite of life in the upper realm—causing her heart to race. Her excitement had little to do with the sensual demon forced to follow her orders. Or so she kept telling herself. She glanced at him and licked her lips. Such a strong, powerful creature. Tall and broad, heavily muscled. Dark of spirit and contrary. And hers to do with whatever she wanted, under her thumb, her boot, her body…
"Sapphira?"
Duncan's smooth tone tore her gaze from where it had wandered, and she flushed when he smiled, a carnal grin that told her he knew very well what she'd been imagining.
"Let's go save some souls, sweetheart. I'm more than happy to teach you everything I know." He grabbed jeans, a ragged T-shirt, and a pair of scuffed boots—all black. Then he promptly dropped his white robe and stood before her, gloriously naked. "I promise not to leave anything out."