New York Times and USA Today Best-Selling Author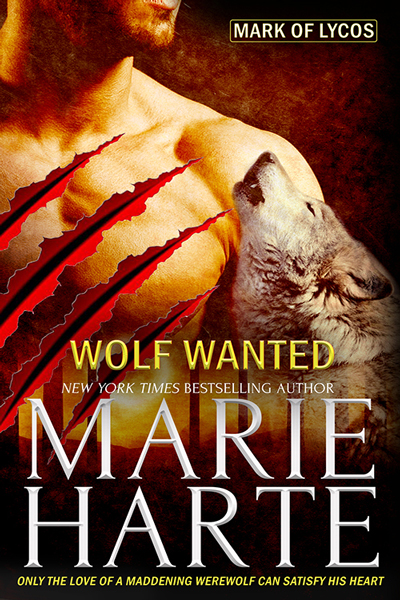 Currently not available, pending re-release
Only a sacrifice can break his curse, and only the love of a maddening werewolf can satisfy his heart.
Trying to avoid an arranged marriage is easier said than done. But Anson seems to have accomplished the impossible. Now if he can put off fighting his twin to the death, he can avoid becoming alpha of his clan as well. The Wolf in the Forest hears and grants his unspoken wish, because one minute Anson's in Alaska with his clan, and the next he's in southern Germany surrounded by athmae—lust demons. One particular demon takes an interest in Anson, a very personal interest. Anson isn't attracted to men, but around Liam, he can think of nothing but getting to know the demon in every way possible.
Liam cast a spell for a wolf, and Anson exceeds his expectations. He's golden, he's sexy, and he's a werewolf— a unique being in the world of shifters. After a hundred years of cursed living, Liam has a chance to finally break free from the spell holding his inner wolf at bay and embrace both his wolf and demon heritage. He never planned on falling in love with Anson, or of taking the maddening werewolf to mate. But his plans for a happily-ever-after come to a screeching halt when the evil sorceress who cursed him returns. She refuses to take 'no' for an answer, and then she sets her sights on Anson…
The priest stepped forward once more and chanted the words that the crowd gathered closer to hear. Praise to the Wolf in the Forest, thanks to the Living Wood, cries of joy that the Silver Clan would continue to thrive and populate a world needing the rawness only natural creatures, like the wolf, could bring.
Anson felt a spark deep within, a burning that seared him from his heart, through his blood and lungs and brain. No, not the claiming. I have no mate in this pack! None of these females is worthy of Lycos's heir.
His brother had seen a glimpse of his future, and it wasn't tied to anyone here that he knew. Twin orbs of fire would light Anson's way, whatever that meant.
Concentrating, Anson pushed past the pain filling his body. He jumped to the ground and watched as several women flocked to the dais, around which stood the other helpless candidates. The newly mated wolves tried to look brave. A few managed grins, pretending enthusiasm for their mated status. But Anson knew what they truly felt, what he felt. Dread. Oppression. Doom.
The seconds ticked into minutes as he continued to wait next to his uncle. Another woman claimed her mate, dragging him with her back into the woods. Older wolves laughed, enjoying the ceremony. A few of the couples began mating in earnest before one and all. With their young tended to in the deep forest, what few inhibitions the wolves held disappeared before one and all. Soon, the festivity turned downright carnal as an orgy unfolded.
And still, no one stepped forward to claim Anson. The tightness in his chest eased.
"I don't understand how you did it." His uncle growled. "Damn, Anson. You really are a stubborn bastard. Just like your father."
"Who was your identical twin."
Mike shook his head. "Go find your brother. I'll give you three days. Then I expect you home. And tell Fenris his bride will be waiting for him."
Anson stared in horror. "You contracted a match for Fenris? You can't do that."
Mike shoved Anson to the ground and put his hand around Anson's neck. "I love you, pup, but you really have to stop telling me what I can and can't do."
The urge to snap at his uncle shocked him, and Anson deliberately shrunk into himself. "Sorry, Uncle Mike," he rasped.
His uncle let him go and yanked him to his feet by his shirt. "You don't fool me, Anson. I know you don't fear me." He tugged Anson close. "You and Fenris are one day going to fight to rule. And I couldn't be prouder that a Barton will once more lead the clan."
"I'm not sure what you mean." Anson looked anywhere but at his uncle. No way would he ever fight Fenris to the death, and especially not for a title he didn't want.
He heard a sigh and felt a shove. "Go on. Keep to notions of freedom for as long as you can. But you can't outrun the Wolf in the Forest, pup. It's in your blood. You'll do great things some day, wolf. Great things."
Panicked at the yoke of responsibility drawing close around his neck, Anson tore off his clothing – the damned ceremonial garb that clung to him like a second skin – and shifted into himself. He didn't bother going after Fenris just yet. Anson needed time to digest all that had happened tonight. Racing on four feet through the forest, he settled into a comfortable gait, away from the sexual energy frothing in the pack. Unfortunately, some of it remained within him, the urge to take pleasure in the joining of souls.
He could still feel the burn of something magical in his blood, and the taste of brewing power called to him. Since he'd never gone through the ceremony before, he didn't know if what he felt was normal or not. But he'd never heard a wolf mention so much heat inside him when he mated.
To his surprise, thoughts of the burn caused it to flare. Enflamed with lust, Anson slowed down. Running with an erection was less than comfortable. Hell, he really ached. Pausing, he wondered just how badly he'd offended the Wolf in the Forest by rejecting the notion to mate. He said a silent prayer asking for forgiveness.
Between one blink and the next, the forest changed. Then it changed again, as if Anson had leapt miles away from the familiar. Beyond the trees he smelled oil, the rot of excess and decay—humanity–and knew something was seriously wrong with him. Because despite his alien environment, his body trembled with the need to release.
A sudden blow knocked him off his feet and singed his fur. Rolling to his side, he tried to rise but couldn't. Then his vision faltered, and his nose filled with the overpowering scent of sandalwood—non-wolves. Enemy spore.
He snarled but could manage no more than a half-hearted yip before strong arms lifted him and pressed him to a broad chest. Muscles rippled against his fur, and without meaning to, he shifted back into his human form. A steady heartbeat thrummed against his ear.
"So pretty," a deep voice rumbled. Others joined him, commenting on everything from Anson's unusual golden hair to the size of his shaft, which to his embarrassment, swelled with his every inhalation. Thankfully, the man holding him didn't seem to notice. He stroked Anson's forearm, over the mark of Lycos. "Well, well. My wolf is truly a prize after all."
Before Anson could question his circumstances, time and space compressed around him, and he knew nothing more.