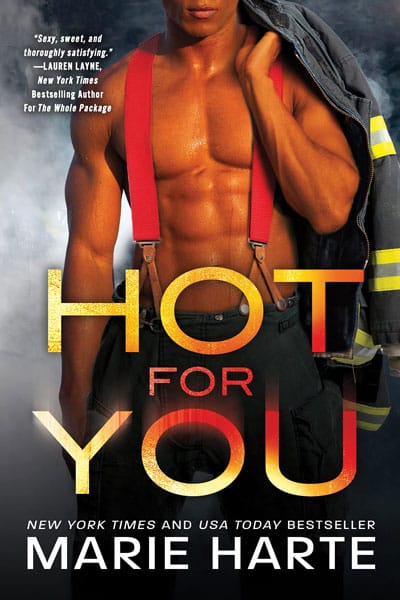 Firefighter Reggie Morgan is done with love, done with relationships, and done with complications. Unfortunately, Cupid isn't done with him. Problems arise when he's called to a hit and run and finds a scared little girl, a butt-ugly stray puppy, and an unconscious woman who lingers in his mind long after she's gone. The girl is six years old going on forty. The puppy is a handful. And the girl's mother, Maggie… She might just be the woman to melt Reggie's icy heart. But Reggie's loved and lost a ready-made family before. The pain of losing nearly broke him. Maggie is a teacher by trade, and she has no intention of letting Reggie go. Instead she'll teach Reggie all about falling—and staying—in love.
The third in the hot contemporary series Turn Up the Heat.
NOTE: in this scene, Frank is a rescued puppy, and Emily is Maggie's daughter.
Reggie pretended he felt nothing for the charming woman in the hospital gown, her arm in a sling, her hand swollen, her forearm wrapped. Maggie hadn't been kidding about her hair sticking up. Since she'd let it go, a clump remained pointed at the ceiling. To his bemusement, her daughter looked a lot like her. Cute where Maggie was beautiful. Funny where Maggie had him choking back laughter.
She seemed so down to earth and laidback despite her injury.
Damn, she was pretty. Smaller than the women he typically found himself attracted to, but her personality sparkled. Even under the bruising, she shone with life.
He found himself fascinated and had no idea why. Everything about her was wrong. A woman he'd helped while on duty. She had a kid—just what Reggie didn't need. Another woman with a child. He hadn't spotted a ring on her finger, and her emergency contact was her friend, not her husband.
How to ask if she had a boyfriend or fiancé he didn't know about?
And this is your business why?
He coughed, an odd case of nerves making him feel weird while he stared into brown eyes a shade darker than his own, surrounded by thick lashes. Her shoulder-length, mink-brown hair framed a thin face, made more dramatic by her pale complexion and full, rosy lips.
"I'm, um, not taking you away from anything, am I?" Maggie asked, hesitant. "I mean, you're probably busy. Kids, wife, girlfriend. Boyfriend?" She blushed. "So not my business. I just wanted you to know how much I appreciate you coming by."
His cue to leave, obviously. Reggie stood. "Oh, nah. I have off until Tuesday. Only real thing on my calendar this weekend is breakfast with family." He sighed. "My dad and my sisters are going to grill me about a blind date—with a woman—that went very wrong."
Maggie chuckled though her cheeks remained pink. "Better you than me. I'm happily divorced and happily single. The last time Doug tried to set me up with a friend, I threatened to sock him in the eye. He's not the best when it comes to hooking up his friends. Ugh. What a worm." She looked at Reggie, her blush intensifying. "Not Doug, that last blind date was the worm."
"Ah, gotcha." He loved how unkempt and uncaring she seemed to be. No fussing with herself, no odd flirting or grabbing at him. Of course, she was laid up in a hospital with a busted arm, but Reggie had no shortage of women cozying up to him. No matter what the guys thought of his stale love life, it wasn't for lack of offers.
"Well, I guess I should get going."
"I don't want to keep you." She bit her lip. "Just one thing, though. You said you're watching Frank for Emily?"
"Oh, yeah. He's at my place. But if you're not going to keep him, I can try to get him a good home through Pets Fur Life."
"Would you, I mean, I shouldn't ask, not after everything you've done, but…"
"Hey, ask me anything," he said with a smile. And I'll do it. Right now. Whatever it is. He wanted to smack himself. And there I go again, being a woman's doormat because she's pretty and has a cute kid. He could almost hear his sisters lecturing him on having a backbone.
"Would you mind holding onto Frank until I can come by to get him? I think they're letting me out tomorrow, just as soon as the doctor okays my scrambled brains as normal." She winked at him. "Little does he know I'm always like this."
Reggie laughed, relieved to be able to stay in contact with her. "Sure. No problem."
She looked around, found a pen and pad of paper by her bed, and slowly wrote something down. "My number for you. I'm happy to come get the dog at your house or we could meet somewhere. You're doing us a huge favor. I'm really grateful for all your help."
"It's not that big a deal. Frank's a cutie, and to be honest, he's still at the vets healing up from his accident."
"Oh, wow. I totally forgot to ask." Maggie shook her head. "That poor thing. Is he okay?"
"Believe it or not, no breaks in the little guy. Just a strained back leg, contusions, and a few cuts on the mend. He'll be just fine."
She let out a sigh. "Good. Bad enough Emily's dealing with me in here. I don't want her to fret about the dog."
"I told your friends to let her know he'd be okay."
Her warm smile made him feel ten feet tall. "Thanks, Reggie."
"No problem."
"Feel free to text or call when you're ready. And I swear I won't share the number with Emily. If she sees it, she'll be texting you at all hours. She's addicted to texting, to prove she can spell." Maggie made a face. "And the scary thing is she can."
He felt his phone vibrate in his back pocket and wondered if he should tell Maggie he'd already been communicating with Emily through her friend Doug. "Well, you see, when I talked to Doug about the dog, I kind of gave him my number."
"And Emily's latched onto it. Oh no. I'm sorry. I know my daughter. How many times has she interrogated you about life in general?"
Reggie couldn't hold back a smile. "Maybe fifty?"
Maggie groaned.
He laughed. "It's all good. I told her when I'm working I can't always talk, and Doug took the phone from her when she got too gabby."
"God bless Doug."
Oh hell. He had to know for sure. "So, not your brother, you said?"
"Nope. He's my neighbor and is happily married to Benny. They're Emily's pseudo-adopted uncles. My ex travels a lot, and he and I are only cordial because of my daughter. Not to give you the rundown of my life, but there's not much to it."
"So, ah, no boyfriend?"
She looked at him. "Nope. No blind dates or boyfriends for me. And no girlfriends for you, huh? Not after that blind date."
"No way." He forced a laugh, feeling stupid for being so blatant about her status. "Wish me luck with my family. And call me if you need anything."
"Anything?" She grinned. "What if I need my toes scratched? I mean, with the cast on, I might not be able to reach a lot."
"Sorry, Maggie. You're on your own when it comes to feet."
"And here I thought all firefighters had to protect and serve."
"Well, there's serve, and then there's serve."
They both laughed, and their close connection settled over Reggie like a warm, comfy blanket.
He waved. "I'll talk to you soon."
"Yeah." She kept smiling.
"I guess I should go."
"Okay."
"Bye."
"Bye."
They stared at each other some more until Reggie took his dopey ass into the hallway, her door closing behind him. There, he leaned against the wall and sagged, feeling excited, nervous, and stupid for no reason.
But he didn't have time to lollygag. He had to hit the vet then the pet store and grab some food, bedding, and treats for Frank. Just in case Maggie decided to keep him. If not, Frank would have some things to take to his forever home.
And speaking of Frank…did that give him a great idea for tomorrow.