Guest Author: Denise Agnew & a Contest!!!
Please welcome bestselling author Denise Agnew, who writes sensual, steamy, and hell, amazingly well-crafted romances in multiple genres. AND she's been nice enough to offer a contest for one of you to win a free book. Read on!
Meet Me At The Castle: A Fantasy That Came True
When Marie Harte asked me to be on her blog I was thrilled. Marie, like me, has been in this ole publishing world for a long time, and we've seen everything and anything happen.
It took me a long time to recognize that I was creative at all…I wrote my first short story at fourteen, then wrote a ton of gothic novels and poetry when I was a teen. Most of my stories were set in Britain or Ireland and featured castles. I loved to read and writing stories and poetry thrilled me on a level nothing else did. But I wasn't confident and therefore didn't believe what I wrote was good.
A wonderful creative writing teacher in high school finally made me realize that I could do this writing thing and maybe not too shabbily either. So I kept writing, but it was always in the closet. As a teen I had fantasies just like everyone else. One was that I'd meet my prince and live in a castle in Britain or Ireland. A pretty tall order.
In 1983 I took a nine-day trip to Ireland and loved it, although I didn't meet my prince there. Still, it was one dream come true I'd fulfilled. In 1990, I did meet my prince in the form of Chief Warrant Officer Terrance B. Agnew.
It wasn't until around 1991, when my husband Terrance said, "Why don't you write for publication?" that the real light bulb went on. I went for it.
In 1996 we found out that we would be stationed in England for three years. I was ecstatic! England! One of the places I'd wanted to visit all my life. While in England lucky me had the opportunity to write full time and on the side I visited every castle I possibly could. In 1999 I was first published with a small electronic publishing company and it has been gangbusters ever since. After sixty novels/novellas and short stories, I've discovered that my creativity is an ever changing thing and that I'm writing the type of stories that mean the most to me.
Just a few years ago another light bulb came on. I'd married the prince, lived in England, and I was writing my novels. My teenage fantasy had come true. It was a true peak experience realizing this, and I am grateful every day.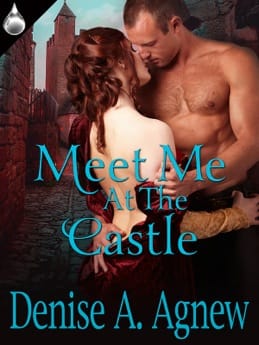 To celebrate the release of Meet Me At The Castle May 12, I'm giving away a copy of my military romance novella (with suspense elements) Sudden Heat (Love Under Fire #1).
Tell me one dream you have and if it has come true for you yet. I'll pick a winner from the comments below.
In the meantime, please stop by my website at www.deniseagnew.com and check out all my work. You can also find me on Facebook and on Twitter.

Big thanks to Denise for stopping by. Now if you want to win a copy of Sudden Heat, leave a comment about your dream. Has it come true?