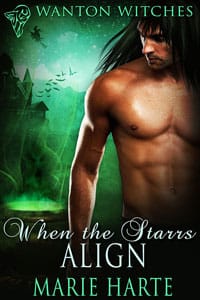 Part of the Wanton Witches Collection
Ten years ago Regan Riley left town to save herself from the scourge of the Starrs. Twin warlocks Chance and Warrick tormented her one too many times, and she fled for safety. But she comes back before  the twins ascend and grow more powerful than she can handle. She has one final shot to  show them what it's like to be bullied, and she plans to take it.
Chance and Warrick have been looking for the shapeshifting beauty for years. Some out of control magic in their youth made her miserable, and they want her back. But when the tricky feline refuses them, they decide on another way of apologizing. In bed. Before long, forgiveness turns to acceptance. But the twins won't use her to help them survive their Becoming during the blood moon.  They lost her once before. They can't do it again. Then Regan wrestles the decision from their hands, and it's do or die. Because this time, losing her isn't an option.