New York Times and USA Today Best-Selling Author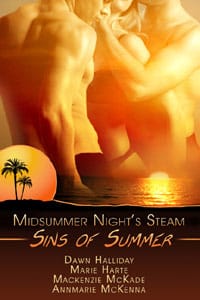 A Midsummer Night's Steam Anthology.
Check your inhibitions at the door.
One plus two add up to fun beyond your wildest dreams.
Fantasmagorical by Annmarie McKenna
In one fantasy-fulfilling week, Gabe and Lance have found their perfect third. But can they convince Evan their fantasy is only the beginning?
Take Me by Mackenzie McKade
One tempting heiress. Two sexy cowboys. Three means fun beyond her wildest dreams—until Caitlyn is forced to choose: Her daddy's money, or the love of a cowboy.
A Scorching Seduction by Marie Harte
Duty wars with affection when Racor's greatest spy must decide whom to trust—the evidence against her sexy suspects, or her heart?
Honeymoon Castaways by Dawn Halliday
Catalina thinks it's not possible to be more satisfied…until she finds herself stranded on a Caribbean island with her husband and their best man. Together, the three of them discover heat and passion uninhibited by the conventions of society. But what happens once they're rescued?
Series: Single Title
Genre: Erotic
Type: Print
Language: English
Publisher: Samhain
ISBN:

978-1-59998-775-0

Length:

Anthology-Novel

Release Date: April 29, 2008