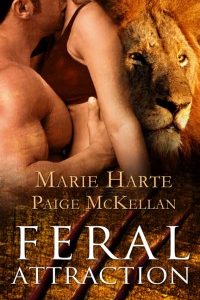 Are you ready for a bite…of something hot?
Claiming Their Mate by Paige McKellan
Jules Kingston's fathers have decided to step down as Leos of the White Sands Pride. As the new Lioness, she'll needs her own pair of mates. Before settling down to have cubs, though, she wants to spread her wings. Gabriel and Lucas are the only two who make her panties wet—and the last two she would consider as mates.
Gabe and Luke use every trick in the book to convince their woman she belongs with them. And Jules leads them on a merry chase—right into the path of a rival pair of lions.
Rachel's Totem by Marie Harte
When Rachel arrives in Cougar Falls for a reading of her aunt's will, she finds in a town where the residents seem more animal than man. The fantastic tales about the Ac-Taw are nothing but folklore. Or are they?
Burke is stunned by his response to Rachel, and even more so when he realizes she's inherited a destiny to protect those of Ac-Taw blood. This puts her in more danger than she knows, danger that only increases the urgency to mark her as his own.
---